Wolf At My Door, Sharpening His Teeth
Crime fiction bleeding into the literary fiction now
So one day Monique Daviau is posting on my Facebook wall an image of some paperback crime novel …
… a paperback crime novel originally from Germany,
a paperback crime novel called Brenner and God …
… and the next day, as if due to publishing kismet, an advance copy of that very book comes through the Chronicle transom and lands squarely on my desk.
And I've since read this Brenner and God, which is part of indie publisher Melville House's International Crime series that translates bestselling crime novels from Europe and beyond and presents them in sharply designed paperback format here in the States. And Brenner and God is a humdinger – there's an Americanism for you, hey? – a sockdollager of an action yarn, revealed via the smart-ass, self-effacing narrative voice that's a sort of trademark of author Wolf Haas, concerning the potentially fatal situation ex-cop Simon Brenner finds himself in when the two-year-old girl he's been chauffeuring is kidnapped.
But, yeah, I don't want to focus on that novel in particular here.
I want to talk about Melville House itself, because of Owen Egerton.
What I mean is, Owen Egerton is the man whose locally published The Book of Harold: The Illegitimate Son of God was recently picked up for paperback reprint by Soft Skull Press. And you don't have to be a publishing aficionado to recognize the name of Soft Skull Press, because those guys have a presence, a sort of, ah, cachet of coolness – much like McSweeney's does, I'd suggest – that emanates beyond the industry.
Which is why it makes perfect sense that Soft Skull would go for Egerton's seriocomic neo-Messiah tale: They're both fierce and relevant.
But, look, although I'm not the most avid reader in town, neither am I an illiterate swine living in some Fox News-bombarded sty that's totally bereft of all things textual – retro me, Satanas. And yet I'd not heard of Melville House until a few years ago, while frisking one of the Chronicle's Books To Be Reviewed, Maybe, Eventually piles.
And I would not want you, dear reader, to remain a victim of the same ignorance that plagued me for so long. No, I Cannot Stand Idly By While, et cetera, et cetera,
and thus this blogpost.
Listen: Melville House fucking rocks.
And Haas's Simon Brenner novels are only part of it. Haas's Brenner novels are candy, even, compared to the more complex and bleak (and British) Factory series by Derek Raymond. Which is also published by Melville House.
(You might be familiar with David Peace's Red Riding Quartet – that's from Serpent's Tail – which was made into the Red Riding trilogy of movies by the BBC, yes? The Factory novels are that sort of a gritty Britty brutal tutelage in the more murderous side of London.)
And Melville House has international crime novels from Jakob Arjouni and Mukoma wa Ngugi and Manuel Vazquez Montalban and more. It's like … it's like fear & loathing in the global village, baby.
But, yeah, I don't want to focus on their crime novels here, necessarily.
Because Melville House is also the publisher that issues the "Art of the Novella" series – small thin paperbacks of minimalist design, of such classics as Kate Chopin's The Awakening, Christopher Morley's Parnassus on Wheels, Mary Shelley's Mathilda, and The Alienist by Machado de Assis, and a lot more.
But, yeah, I don't want to focus on their Novella series here, necessarily.
Because Melville House also publishes the philosophical shenanigans of Lars Iyer, which you can read because you enjoy philosophy or humor or both, or which you might want to own just for the cunning cover photos by Austin artist William Hundley (whose work is currently on display –
along with that of Hector Hernandez – in Austin's own grayDUCK Gallery).
But, really, all I want to say is: Big publishers, those owned by conglomerates of corporations & so on, they publish some terrific and, naturally, highly publicized work. Yes, they do.
But the smaller presses like Melville House and Soft Skull and Serpent's Tail and others? That's where, as ever, you're going to find the primo shit that's off the more advertised path.
Just a suggestion here, from your humble correspondent.
BONUS: Weirder genre-fictionwise? Like, good sci-fi and fantasy and horror? Night Shade Books, friend. Go for the Bacigalupi, stay for a whole lot more.

A note to readers: Bold and uncensored, The Austin Chronicle has been Austin's independent news source for over 40 years, expressing the community's political and environmental concerns and supporting its active cultural scene. Now more than ever, we need your support to continue supplying Austin with independent, free press. If real news is important to you, please consider making a donation of $5, $10 or whatever you can afford, to help keep our journalism on stands.
READ MORE
More by Wayne Alan Brenner
Who says we can't be the other-than-live-music capital of the world, too?
Oct. 7, 2022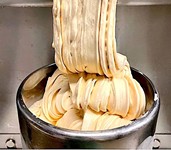 All the news that's fit to get your taste buds quivering
Oct. 5, 2022
KEYWORDS FOR THIS POST
Wolf Haas, Melville House, Soft Skull Press, Derek Raymond, Owen Egerton, Serpent's Tail, Red Riding, Night Shade Books
MORE IN THE ARCHIVES