Fusebox Festival Review: Magdalena Jarkowiec's In Here
Are we all just doing a dance in a box?
By Jonelle Seitz, 4:00PM, Thu. Apr. 19, 2018
I went into In Here already a fan of several things: the choreographic and soft-sculpture work of Magdalena Jarkowiec, the typically nuanced and droll performances of dancers Kelsey Oliver and Alexa Capareda, and the effects of putting things in boxes.
By that last one, I mean what happens with Joseph Cornell's shadowboxed trinkets and collages. Anything on a proscenium stage. A kitten in a shoebox. A poem on a broad-margined page.
By "into it," I mean not into the box – the audience stayed outside it – but into the Museum of Human Achievement, which housed the room-sized box of bare lumber, which we were led to by a trail of Oriental rugs and the sound of a vacuum cleaner. The white curtains were drawn at the pair of corner windows, so we peered in to see Oliver and Capareda surrounded on all five interior surfaces by regal-red carpet, which they meticulously picked lint off of. They prepared by changing out of one set of identical yellow sweatsuits into another. This was the last of Wednesday's series of several 20-minute performances, and the previously worn sweatsuits were strewn about the room.
Jarkowiec had sewn the sweatsuits and made the dance that ensued. Although her projects can be outsized, like her towering Bent Figure sculpture and the giant felt masks she created for her dance work Us Kids Are Alone in the House, the relationships in her dances often illuminate the more moderate scale of interiors. Here, Oliver and Capareda lay atop one another, made obscure gestures, lolled about on the carpet, and performed a glued-together waltz. Domestic relationships are full of artifice, said the carpet and polyester sweatsuits, which, with white socks, made the dancers almost like batting-stuffed versions of themselves. And that artifice might become inextricable from our real intimacies, said the moment when Oliver climbed out of the box, walked around to the window, and signaled with a whistle for Capareda to help her back inside.
Capareda and Oliver are a pair you shouldn't miss. As Care Bear versions of our domestic selves, they were absurd and adorable, and as the performance progressed, their virtuosity went on display, with flying jumps and body slams to the crescendos of a ballet finale. They were also often hilarious, so while free tickets are limited (there were a few left at the time of this writing), this performance is one to chance the walk-up on.
---
In Here
continues Thu., April 19, every 20 minutes from 6–9pm, at the Museum of Human Achievement, 3600 Lyons. To reserve a free ticket, visit the
Fusebox website
. Limited walk-up tickets will be available.
A note to readers: Bold and uncensored, The Austin Chronicle has been Austin's independent news source for over 40 years, expressing the community's political and environmental concerns and supporting its active cultural scene. Now more than ever, we need your support to continue supplying Austin with independent, free press. If real news is important to you, please consider making a donation of $5, $10 or whatever you can afford, to help keep our journalism on stands.
READ MORE
More Fusebox Festival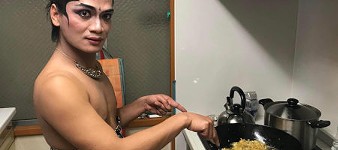 Here's who will be charging up your screen April 24-26
Robert Faires, April 20, 2020
This dance grapples with cultural appropriation and racism
Jonelle Seitz, April 24, 2018
More by Jonelle Seitz
The work's dancers, whether on the ground or sailing through the air, were beacons of human hope and empathy
Sept. 28, 2018
In the troupe's latest choreodramas, dancing desperados persisted and partied
Aug. 31, 2018
KEYWORDS FOR THIS POST
Fusebox Festival, Fusebox Festival 2018, Magdalena Jarkowiec, In Here, Alexa Capareda, Kelsey Oliver, Museum of Human Achievement
MORE IN THE ARCHIVES