Shorter Fuse, Bigger Bang
Fusebox Fest down to five days, but it's as explosive as ever
By Robert Faires, 11:00AM, Thu. Feb. 4, 2016
What's crazier than Fusebox Festival packing more than 50 boundary-busting interdisciplinary projects – including a variety of performances, installations, talks, and events – into 12 days?
How about Fusebox packing 60 such projects into just five days?
'Cause that's the plan for 2016.
In releasing the lineup for this year's Fusebox, festival founder and Artistic Director Ron Berry announced that for the first time in its 12-year history, the hybrid arts hootenanny would take place over five days, April 6-10, even though it would be presenting as many acts as it ever has: more than 60, spread out over two dozen venues across Austin. In a press statement, he described this as "an exciting experiment" intended to "attract more out of town audiences and colleagues while creating an even more vibrant, temporary community around the festival."
As usual, Berry has booked an exciting roster of artists from across the nation and the globe, with this year's participants hailing from as far away as Angola, Argentina, Hong Kong, Japan, Mexico, and Russia. Among them:
• Composer/artist
Mark Mothersbaugh
, who will lead a performance of orchestral versions of DEVO covers and his compositions for numerous films, performed by him on a six-sided keyboard of his own invention with assistance from a local musical ensemble;
• artist collective
My Barbarian
, which will present the results of its residency at UT-Austin's Visual Arts Center, during which 10 Austinites will be led through a five-stage workshop that will incorporate "song, dance, levitation, trust circles, masks, signs, and other elements to playfully reenact serious artistic, political, social, and historical situations";
•
Royal Court Theatre
's
Manwatching
, in which text about female desire written by an anonymous woman will be read aloud by a man who hasn't seen it before the performance.
•
Tetsuyo Umeda
of Osaka, who will create a site-specific installation/performance rooted in strange and surprising physics experiments that he will perform in front of an audience;
•
Deborah Pierrson
of the UK, who will perform her first solo piece,
Like You Were Before
, about leaving Canada and revisiting her past;
• British performer
Rachel Mars
, who will present her examination of envy,
Our Carnal Hearts
, and, with
Greg Wohead
, the constructed deconstruction of narrative,
Story #1
;
•
Big Dance Theater
of New York City, which will perform a mixed program of short works;
• the UK's lord of the lip-synch,
Dickie Beau
, who will perform his solo cabaret memoir,
Unplugged
;
• audio artist
Samson Young
in a durational performance that combines found footage of night bombings with live foley re-creations of the sound; and
• Belgian artist
Hans Bryssinck
, who will offer the fruits of his efforts to learn traditional songs of Colombia, performing them with full acknowledgment of his position "as an intruder in another culture."
Naturally, the ATX will be well represented, with the Rude Mechs taking a second at their latest show in development, Field Guide (and as near as we can tell, the Brothers Karamazov and stand-up comedy are still in the mix); Catastrophe Theory Arts, giving us a second look at its Notes on the Classification of Spectral Lines, the Art of Water Writing, and Other Important Ephemera; Austin Revolutions per Minute, which will provide a curated collection of local music on vinyl for you to enjoy in special listening rooms; Jules Buck Jones' Animal Facts Club, which will mash up art and science in an hourlong lecture/performance on The Biodiversity of Texas; visual artist Yuliya Lanina, who will enter one of her works via the magic of animation; Los Outsiders, who will serve up an over-the-top absurdist fashion show called Sew Wasted; composer Matthew Steinke, who will create a musical installation in which common iron objects are used to create sounds and tones through electromagnetism; and composer Steve Parker, who has created a work for the flying mammals who roost under the Congress Avenue bridge, Bat/Man, that actually involves pitch-shifting their calls so they can be heard by human ears and having them be accompanied by a conch-shell ensemble, a megaphone choir, a funnel horn band, and echo-location devices used by audience members.
This year's festival hub, where Fuseboxers can meet nightly to connect with one another, as well as festival artists and crew, will be at Austin Saengerrunde Halle, 1607 San Jacinto, which means that in addition to the standard libations and conversations, you can enjoy free bowling and a rooftop patio.
Last but not least, for the third year in a row, Fusebox will be entirely free to attend, under the Free Range Art initiative. Advance reservations for festival events can be made starting Feb. 8, on the Fusebox website. Tickets will also be available at the door.
A note to readers: Bold and uncensored, The Austin Chronicle has been Austin's independent news source for almost 40 years, expressing the community's political and environmental concerns and supporting its active cultural scene. Now more than ever, we need your support to continue supplying Austin with independent, free press. If real news is important to you, please consider making a donation of $5, $10 or whatever you can afford, to help keep our journalism on stands.
READ MORE
More Fusebox Festival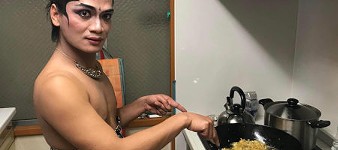 Here's who will be charging up your screen April 24-26
Robert Faires, April 20, 2020
This dance grapples with cultural appropriation and racism
Jonelle Seitz, April 24, 2018
More by Robert Faires
The actress looks back at what it was to be young, geeky, and Black
April 9, 2021
For the seventh year, Golden Hornet referees this composition competition while you decide the winner
March 26, 2021
KEYWORDS FOR THIS POST
Fusebox Festival, Ron Berry, Rude Mechs, Free Range Art, Steve Parker, Mark Mothersbaugh, Jules Buck Jones, Matthew Steinke, My Barbarian
MORE IN THE ARCHIVES