60-in-Sixty Summer Shandy
Fusebox's annual spectacle is a mustard seed – er, a must-see
"60-in-Sixty might be the most diverse and eclectic variety show on the planet," says Brad Carlin, managing director of Fusebox Festival. "Although we curate the performers, we have no idea what they are going to do in their one minute on stage. That makes for an incredibly fun and unpredictable night."
Every year Fusebox hosts an event in which 60 incredible actors, musicians, dancers, painters, thinkers, and personalities, perform in 60 unforgettable 60-second acts. But this year's 60-in-Sixty Summer Shandy is adding an extra treat to the mix, and I'm not just talking about the delicious shandy bar that will be there.
"We have been hosting this event for over 10 years, and it is truly one-of-a-kind," says Carlin. "This year we are excited to be in a new venue - the historic Saengerrunde Hall next to Scholz Garten - and incorporating some of the best German/Texas inspired food and drink in Central Texas."
This German/Texas mixed breed of food includes sausage from Lockhart's finest BBQ places: Kreuz, Smitty's, and Black's, and pretzels from Austin's own Easy Tiger. Get ready for curated potato salads and sauerkrauts from all around the city, and don't forget there will be shandy, lots of shandy. Oh yeah, and the Fusebox Mustard Bar & Library and Austin Mustard Club will be there, too.
That's right, I said "Mustard Bar & Library." Here in Austin, we don't take mustard lightly. In fact, we take it well, heavy, as in "heavy mustard on my burger, please."
Graham Reynolds, Golden Hornet Project co-founder, busy composer, and curator of the Fusebox Mustard Bar & Library, takes mustard so seriously that he's bringing to the party a huge collection of mustards for you to try.
And if you need a break from all the fun and commotion going on at the 60-in-Sixty performances, you can head over to the "Mustard Reading Room" and lose yourself in a library of mustard novels, mustard graphic novels, and mustardseed wisdom.
Tickets are available through the Fusebox website.
A note to readers: Bold and uncensored, The Austin Chronicle has been Austin's independent news source for almost 40 years, expressing the community's political and environmental concerns and supporting its active cultural scene. Now more than ever, we need your support to continue supplying Austin with independent, free press. If real news is important to you, please consider making a donation of $5, $10 or whatever you can afford, to help keep our journalism on stands.
READ MORE
More Fusebox Festival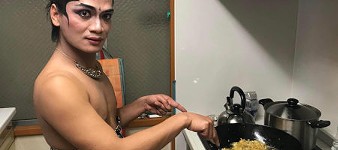 Here's who will be charging up your screen April 24-26
Robert Faires, April 20, 2020
This dance grapples with cultural appropriation and racism
Jonelle Seitz, April 24, 2018
More by Alexa Harrington
Costume designer talks season 2 of From Dusk Till Dawn: The Series
Aug. 25, 2015
The Hideout Theatre revives its 2014 hit at the Long Center
Aug. 21, 2015
KEYWORDS FOR THIS POST
Fusebox Festival, 60-in-Sixty, Brad Carlin, Graham Reynolds, Saengerrunde Hall, Scholz Garten
MORE IN THE ARCHIVES