Jad Abumrad Detours to the Paramount
Radiolab creator previews Austin audio walking tour
By Marc Savlov, 4:00PM, Tue. Mar. 3, 2015
"The only thing that has changed in the 12 years that I've been doing this is that the period of discomfort, which used to last two hours, now it lasts about five minutes." That's but one tidbit of creative wisdom dispensed by the canny WNYC podcast superstar last night.
Armed with his trusty laptop, a film screen, and musician Sarah Lipstate at stage left (Radiolab co-host Robert Krulwich was presumably holding down the fort back in New York City), Abumrad expounded in his inimitably Jad-esque way, about the birth of Radiolab, his own struggles with creative blockage, and how other creatives could benefit from his backstory. Even watching from the nosebleed section of the Paramount, Abumrad's techniques for combating creative inertia – be it the writer's blank page, an artist's empty canvas, or a Radiolab microphone – came across as intrinsically useful, do-able, and, no surprise to podcast listeners, endlessly fascinating.
Abumrad extrapolated from a seeming disparate array of sources, chief among them techniques used in high-stakes poker and the notion that by aiming for multiple creative targets (or "pot odds," in cardsharp lingo) you counterintuitively increase your chance of hitting on a single truly great idea.
One of our favorite Radiolab episodes has alway been "The Ring and I," a 59-minute explanation of the entirety of composer Richard Wagner's Ring Cycle which, as it turns out, confounded Abumrad early on in his career. The key lesson learned after missing month after month of deadlines, said Abumrad, was that every creative project entails its creator spending time lost in "the German forest." All those chilly winter spruces? It's a perfect metaphor for the maddening failure of the imagination that, inevitably, plagues almost every artistic ambition at some point. But, as he next pointed out, the more you do whatever it is that you do, the less time you find yourself mentally trapped behind enemy lines.
"I worked and worked and worked," Abumrad recalled, as Wagner played in the background. "It got so bad that, years later, I would have these weird flashbacks where I would be late to meet my wife for dinner and she'd text me: 'Where r u? Ur late!' And I would look at that word 'late' and suddenly my palms would start to sweat and my heart would start to pound and…what was happening to me?" A science reporter friend later diagnosed him with having contracted PTSD from the Wagner experience. Hey, it's Wagner.
As the evening wound down, Abumrad brought out Radiolab Executive Producer Ellen Horne and Detour.com founder Andrew Mason who revealed the evening's big semi-open secret: The Radiolab gang has actually been here in town for months working on an Austin-based Detour immersive walking tour that will focus on the city's secret life during the tumultuous year of 1885. Austin history buffs will already know this, but that was the year that the country's first known serial killer – the so-called Servant Girl Annihilator – stalked Austin's streets.
That Radiolab/Detour co-production, voiced by Austin actor Barbara Chisholm, is currently undergoing Beta-testing by, um, everyone in the audience last night, and will debut for the public-at-large during South By Southwest. Check out Radiolab.org and Detour.com for all the nifty info.
A note to readers: Bold and uncensored, The Austin Chronicle has been Austin's independent news source for almost 40 years, expressing the community's political and environmental concerns and supporting its active cultural scene. Now more than ever, we need your support to continue supplying Austin with independent, free press. If real news is important to you, please consider making a donation of $5, $10 or whatever you can afford, to help keep our journalism on stands.
READ MORE
From retro horror to COVID survival, the best of the fests
Richard Whittaker, Jan. 7, 2022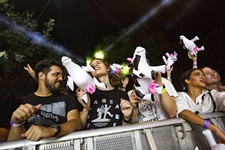 Federal program gave $130 million to over 100 local businesses
Rachel Rascoe, Oct. 22, 2021
More by Marc Savlov
Dec. 17, 2021
Moving stoner drama finds the downside of going legit
Oct. 15, 2021
KEYWORDS FOR THIS POST
Radiolab, Jad Abumrad, SXSW, Detour.com, Ellen Horne, Servant girl annihilator
MORE IN THE ARCHIVES