Free Rangin' Excitement
Announcing the lineup for Fusebox Festival's 10th edition
By Robert Faires, 10:00AM, Thu. Jan. 30, 2014
Gelato flavors inspired by concepts in contemporary art. The DJ who gave too much information. A play composed only of texts sent to you over six months. A musical work scored for a weaver at a loom, a DJ, an accordionist, and 50 violinists who have never played the violin. A Frito pie tour. These wonders and more are coming in the 2014 Fusebox Festival.
Founder and Artistic Director Ron Berry provided the first peek at this year's event – the 10th for Austin's annual hybrid arts hootenanny – at the Palm Door Tuesday night. More than 50 projects are lined up for this milestone edition of the international interdisciplinary celebration, taking place April 16-27 at 20-plus different sites around the city.
Berry has once again drawn artists from across the nation and the globe. Among the more far-flung of this year's participants:
• Wunderbaum (Fusebox, 2012) returns from the Netherlands with Looking for Paul, in which the troupe invites a Rotterdam resident to accompany them to Los Angeles to confront a sculptor whose "Buttplug Gnome" is, she feels, ruining the street where she lives.
• Sibyl Kempson (Fusebox, 2009, 2010, 2013) is back with the latest incarnation of her three-year collaboration with the Pig Pile, a melange of Austin artists from the Rude Mechs, Salvage Vanguard Theater, Rubber Repertory, Physical Plant, and Scriptworks. A version of this, River of Gruel, was shown in last year's Fusebox.
• Suzanne Bocanegra (Fusebox 2013) serves up Rerememberer, inspired by the weaving of a Danish garment, and incorporating the sound of live weaving from a miked loom, the sound interpreted and riffed on by an accordion, a DJ, and a 50-piece amateur orchestra.
• Sam Green provides a "live" onstage documentary drawn from his visit to Stanford's extensive Buckminster Fuller archives. Indie rock supergroup Yo La Tengo provides the live score to The Love Song of R. Buckminster Fuller.
• Bulgaria's SubHuman Theatre and interdisciplinary artist Venelin Shurelov present an installation/lecture by a cyber-being.
As usual, the ATX is well represented, with a few local artists teaming with guests from around the world, such as dancer Rosalyn Nasky and composer Steven Snowden (Hong Kong); artist Rebecca Layton and clothing designer Monika Jakubiak (Warsaw); and the big opening event, the Mozart Requiem Undead, for which Austin's Golden Hornet Project – aka musical dynamos Graham Reynolds and Peter Stopschinski – commissioned composers Glenn Kotche of Wilco, Todd Reynolds of Bang on a Can, Pulitzer Prize winner Caroline Shaw, DJ Spooky, violinist/vocal sensation Petra Haden, Grupo Fantasma's Adrian Quesada, Okkerville River's Justin Sherburn, and Dutch award-winner Kate Moore to take on the originally unfinished sections of Mozart's final work and finish them themselves. Project partner Texas Choral Consort will provide the singers, and Artistic Director Brett Baldwin will conduct.
On the local front, also look for contributions from Christeene, Conspirare (leading a Big Sing for Fusebox), Puro Chingon Collective, Magnifico, Vortex Repertory Company (premiering David DeMaris' new opera about theoretical physicist Wolfgang Pauli), Arthur Simone (doing stand-up with a real robot), Experimental Response Cinema, and that Physical Plant play by Steve Moore that develops through text messages that will be sent to you over half a year.
And don't forget the Free Range aspect to this Fusebox: Every event is free. You can just show up and walk right in to any event at no charge, provided it isn't sold out. The way it gets sold out in advance is through a new reservation system that you'll be able to sign up for at the Fusebox website. Just be forewarned: Not showing up for a show you're reserved a space for is not without consequences. Do it more than once, and you'll not only be barred from making further reservations but have all your existing reservations canceled. As Fusebox Managing Director Bradley Carlin stressed at the announcement party, "Respect the reservation."
For more information and the full schedule, visit www.fuseboxfestival.com.
A note to readers: Bold and uncensored, The Austin Chronicle has been Austin's independent news source for over 40 years, expressing the community's political and environmental concerns and supporting its active cultural scene. Now more than ever, we need your support to continue supplying Austin with independent, free press. If real news is important to you, please consider making a donation of $5, $10 or whatever you can afford, to help keep our journalism on stands.
READ MORE
More Fusebox Festival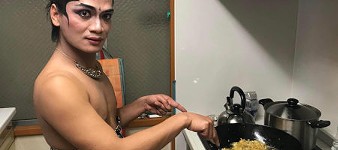 Here's who will be charging up your screen April 24-26
Robert Faires, April 20, 2020
This dance grapples with cultural appropriation and racism
Jonelle Seitz, April 24, 2018
More by Robert Faires
Lessons and surprises from a career that shouldn't have been
Sept. 24, 2021
The first-ever museum exhibition of Daniel Johnston's work digs deep into the man, the myths
Sept. 17, 2021
KEYWORDS FOR THIS POST
Fusebox Festival, Ron Berry, Bradley Carlin
MORE IN THE ARCHIVES