What the Hell Is Going On, Austin Arts Scene?
Here: Some nuggets of news from the frontlines of local culture.
First of all, you know that distinctive billboard near the intersection of Airport & Manor, right?
No, not that one featuring David Komie, The Attorney That ROCKS – lol, amirite? – although, while we're talking about that, check out The Hustle Show's recent video parody of Austin's dreadlocked legal eagle.
No, we mean that much more minimalist billboard, closer to the railroad tracks on Manor: That billboard for Transgressor magazine. Yeah, well, it's gone. It's been replaced by one of those Austin Art Board images: The gorgeously equestrian Icon by photographer Reagan Hackleman.
Which is a terrific replacement, hell yes – although we miss the bold Transgressor logo looming against its black rectangle there.
Still, the replacement makes a kind of sense, as the last issue of Transgressor – an online anthology featuring reports on cultural and social transgressors – has also been replaced by the newest issue of Transgressor, recently added to the project's vastening stores of information. Stuff in there about Swedish artist Linnéa Sjöberg and our favorite gender-bending trainwreck Christeene and more.
Also, Russell Etchen? Former head honcho of this city's dearly departed Domy Books? Transgressor publisher Morgan Coy and his crew recently held a competition for Transgressor t-shirt designs – and that same Etchen's work was the winner. Reckon you'll see it improving the chests of media transgressives (and the smarter hipsters in town) before the year's out.
(Note: Of course Etchen is also part of the whole Big Medium show for EAST, currently complicating the walls in the Canopy space at 916 Springdale – where you can also catch the "Eclosion" show at Art.Science.Gallery and the newest objects of transcendent utility by Michael Yates and friends, among other fascinations.)
But, back to Manor Road. Because a little farther west on that road is Salvage Vanguard Theater – where Trouble Puppet stalwart Zac Crofford has been newly named Venue Manager, as longtime manager Elle Mahoney has left the building (so to speak) to work with internationally renowned choral group Conspirare.
Yeah, this is starting to sound like one of those "Movers and Shakers" columns from the Austin Business Journal or whatever, right? But, please: Form follows function, baby!
FORM. FOLLOWS. FUNCTION.
(Speaking of function, it'd be personally dysfunctional not to mention that that same Salvage Vanguard venue's art gallery currently boasts three large walls of original "Rorschach Burlaps" created by your reporter Brenner in his (as Tom Lehrer would phrase it) copious free time: A little treat for your eyes while you're in the lobby waiting to experience Gnap!'s The Cherry Bowl or another episode of No Shame Theatre or the latest sonic wonderment from Church of the Friendly Ghost.)
And of course, elsewhere in the ATX, WaffleFest is going on in the Hideout downtown this weekend. Which doesn't really take away from the city's other epicenters of improv comedy, because – as Roy Janik points out in this interview – all those worthies are represented within the dough-devouring festival itself. Still, we'd be remiss not to mention that the foulmouthed hoodlums known as Confidence Men: Improvised Mamet will soon be presenting their 100th show – on Friday, December 6th, at the Institution Theatre. And somehow those raconteurs have achieved their consistent heights of professional, unscripted hilarity without having read Improv Wins – the terrific new how-to book from Chris Trew and Tami Nelson of The New Movement.
(Speaking of writing things, Confidence Men's Troy Miller? His script The Hitch recently won the Austin Film Festival's award for Best Horror Screenplay.)
Some people, you know? Can't be satisfied with doing just two or seven things at once, the damned overachievers.
And you, citizen, after all the things you're gonna do this weekend? Maybe you wanna relax a little on Sunday night – by getting a ringside seat for Steinway to Hell, the no-holds-barred battle between composers Graham Reynolds and Peter Stopschinski at (of course) Pete's Dueling Piano Bar on Dirty Sixth. We recommend the hell out of it.
(But then, in the same sprightly how-ya-doin' tone of the rest of this article, we also recommend the hell out of this Turkey Dubstep video, too.)
A good weekend to you, arts lover. HUZZAH!
A note to readers: Bold and uncensored, The Austin Chronicle has been Austin's independent news source for over 40 years, expressing the community's political and environmental concerns and supporting its active cultural scene. Now more than ever, we need your support to continue supplying Austin with independent, free press. If real news is important to you, please consider making a donation of $5, $10 or whatever you can afford, to help keep our journalism on stands.
READ MORE
More by Wayne Alan Brenner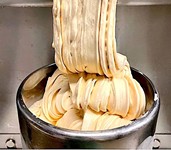 All the news that's fit to get your taste buds quivering
Oct. 5, 2022
Which is why Oct. 4 is filled with goodies for you
Oct. 3, 2022
KEYWORDS FOR THIS POST
David Komie, The Hustle Show, Morgan Coy, Transgressor Magazine, Austin Art Boards, Reagan Hackleman, Christeene, Russell Etchen, Art.Science.Gallery., Michael Yates, Salvage Vanguard Theater, Trouble Puppet, Zac Crofford, Elle Mahoney
MORE IN THE ARCHIVES