The Fuse Is Lit
The lineup for Fusebox Festival 2013 has been announced
By Robert Faires, 1:15PM, Wed. Jan. 30, 2013
The countdown to Austin's annual hybrid arts hootenanny began in earnest Tuesday night when Fusebox Festival Artistic Director Ron Berry announced the lineup for the 2013 edition at MASS Gallery. On the bill: dance by Deborah Hay, music by line upon line, theatre by Action Hero, and film by Peat Duggins.
In all, more than 40 projects will be part of the ninth go-round for this international interdisciplinary celebration, taking place April 17-28 at 15 different sites around the city.
Berry has once again drawn artists from across the nation and the globe. Among the more far-flung of this year's participants:
•Ant Hampton of Rotozaza (Fusebox, 2008, 2009) returns from the UK with Cue China (Elsewhere, Offshore), an Auto Teatro performance in which his video conversations with Chinese workers bleed onto screens between two audience members, replacing their faces with those of the Chinese workers.
• British troupe Action Hero, which delighted audiences with its two-person Western staged in the Victory Grill (Fusebox 2010), returns to Austin to re-create Evel Knievel's jump over the fountain at Caesar's Palace with the daredevil-inspired piece Watch Me Fall.
• The Dictaphone Group of Lebanon, noted for its site-specific works drawn from urban research and oral history, presents its first-ever lecture performance, Nothing to Declare, investigating the concept of borders.
• Native South African Nora Chipaumire performs her first character-driven performance, Miriam, in which she explores through movement and text a woman's struggles to forge her own identity in an environment of strict cultural traditions and imperialist racial views that define female beauty and power.
• Solo performer Michelle Ellsworth of Boulder, Colo., has remixed The Iliad into Phone Homer, in which housebound Clytemnestra takes Skype calls from Agamemnon, Helen, Penelope, and Aegisthus and searches the web for instructional videos, transformative dance moves, and peace derived from materialism and food.
• Former Austin artist Peat Duggins pays a visit from Cambridge, Mass., to screen A Survey of Open Space, his documentary film account of three cyclists on a 14-week ride from the Mexican border at Brownsville, Tex., to the Arctic Ocean shores of Prudhoe Bay, Alaska. An exhaustive sketchbook made by Duggins on the road forms the basis for the film's narration and structure.
The ATX is well represented this year as well, with new stagings of some theatre productions that were premiered or workshopped recently – Hannah Kenah and Jenny Larson's Guest by Courtesy, the Duplicates' The Poison Squad – as well as new showings of works in progress: Physical Plant's Adam Sultan and the Rude Mechs' Stop Hitting Yourself. Other highlights:
• Choreographer Deborah Hay presents three of her dances – the duet As Holy Sites Go and the solos FIRE and No Time to Fly – as performed by New York-based Jeanine Durning and Australian dancer Ros Warby, who performed Hay's The Match in Austin in 2005.
• Austin's own line upon line percussion will perform the U.S. premiere of Erewhon, a monumental percussion work by prominent French composer Hugues Dufourt that requires more than 150 wooden, metal, skinned and pitched percussion instruments. The performance will be free.
• Photographer Rino Pizzi follows up his Mona Lisa Project with a new multi-artist challenge: to take a photographic portrait that he's made of them, destroy it, and reconstruct it. On board for transFIGURATION are artists Jill Bedgood, Benito Huerta, Catherine Lee, Shea Little, Michelle Mayer, McKay Otto, Wura-Natasha Ogunji, Margo Sawyer, Shawn Smith, Jana Swec, Jade Walker, and Steve Wiman.
Early bird passes ($125) are on sale now. Regular passes ($175) and individual tickets go on sale Feb. 28. For more information and the full schedule, visit www.fuseboxfestival.com.
A note to readers: Bold and uncensored, The Austin Chronicle has been Austin's independent news source for over 40 years, expressing the community's political and environmental concerns and supporting its active cultural scene. Now more than ever, we need your support to continue supplying Austin with independent, free press. If real news is important to you, please consider making a donation of $5, $10 or whatever you can afford, to help keep our journalism on stands.
READ MORE
More Fusebox Festival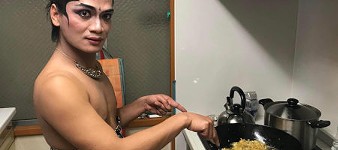 Here's who will be charging up your screen April 24-26
Robert Faires, April 20, 2020
This dance grapples with cultural appropriation and racism
Jonelle Seitz, April 24, 2018
More Austin arts
Uncommon combinations – dance with horses, music with robots, drama with a Tesla coil – made the year unforgettable
Wayne Alan Brenner, Dec. 30, 2016
The Cost of Art III: How the Fusebox Festival liberated itself from charging admission
Katherine Catmull, July 25, 2014
More by Robert Faires
Lessons and surprises from a career that shouldn't have been
Sept. 24, 2021
The first-ever museum exhibition of Daniel Johnston's work digs deep into the man, the myths
Sept. 17, 2021
KEYWORDS FOR THIS POST
Fusebox Festival, Austin arts, Ron Berry, Deborah Hay, Peat Duggins, Action Hero, line upon line percussion, Ant Hampton, Rino Pizzi
MORE IN THE ARCHIVES