Genie, Light That Fuse
Get the early scoop on Fusebox 2013 at Blue Genie tonight
By Robert Faires, 12:30PM, Fri. Jan. 4, 2013
With the turning of the calendar, we're now within sniffing distance of the 2013 Fusebox Festival. You can smell the boundary-busting interdisciplinary performance on the wind – or maybe that's the veggie chili being cooked up by the imagineers at Blue Genie Art Industries, who are offering a sneak peek at the upcoming Fusebox tonight from 6-9pm.
The Blue Genie genii – creators of so much spectacular signage and architectural awesomeness around town, as well as sponsors of the Blue Genie Art Bazaar every yuletide – have developed a tradition of throwing happy hour shindigs at their digs on Springdale Road on the first Friday of each month, and they've decided to have their longtime creative compadre Ron Berry co-host the first one of the new year specifically to kindle interest in the coming Fusebox, set for April 17-28.
The connection between the Blue Genies and "Solid Gold" Ron Berry, as they like to call him, goes back even further than the 10 years he was their next-door neighbor, running the
Blue Theatre
. He was part of the legendary artistic and theatrical shenanigans that took place on the South Austin residence they dubbed
Black Mountain
. So it's only natural that they'd want to share a winter brew with him and discover what's on tap for the upcoming festival. But we're all invited, too, and since the official announcement of the 2013 Fusebox line-up and schedule won't be until Tuesday, Jan. 29 (location TBA), this is your big shot at getting early news about Fusebox 2013. The Fusebox boss man tells us that he'll share some of the philosophy and thinking behind the festival before he leaks a few details about some of the programming you can expect this year. And Fusebox staffers Natalie George and Brad Carlin will be around with Berry to answer questions and talk about specific projects – like possibly
The Strange Undoing of Prudencia Hart
, which brings the
National Theatre of Scotland
back to town this month in a nontraditional space: the Palm Door on Sabine. It's presented by
Texas Performing Arts
in partnership with Fusebox, which is offering a 15% discount on tickets with
a special code
. Beer, Berry, and, quite possibly, S'mores. What more could you ask? The First Friday Happy Hour, with added Fusebox, is tonight, Jan. 4, 6-9pm, at Blue Genie Art Industries, 916 Springdale. For more information, visit the
Blue Genie Facebook page
.
A note to readers: Bold and uncensored, The Austin Chronicle has been Austin's independent news source for almost 40 years, expressing the community's political and environmental concerns and supporting its active cultural scene. Now more than ever, we need your support to continue supplying Austin with independent, free press. If real news is important to you, please consider making a donation of $5, $10 or whatever you can afford, to help keep our journalism on stands.
READ MORE
More Fusebox Festival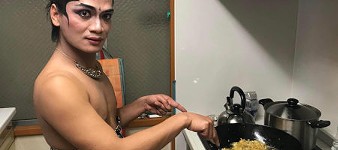 Here's who will be charging up your screen April 24-26
Robert Faires, April 20, 2020
This dance grapples with cultural appropriation and racism
Jonelle Seitz, April 24, 2018
More Blue Genie Art Industries
And you're invited to the farewell party, citizen!

Wayne Alan Brenner, March 29, 2016
Junk family to be guests of honor at demolition party
Virginia B. Wood, Jan. 20, 2015
More by Robert Faires
Through the pandemic and other obstacles, the choreographer and UT teacher continues to adapt
Oct. 16, 2020
The Lady Bird Johnson Wildflower Center brings back its fancy forts right when we need them
Oct. 2, 2020
KEYWORDS FOR THIS POST
Fusebox Festival, Blue Genie Art Industries, Ron Berry, Black Mountain
MORE IN THE ARCHIVES