Public Notice
"Public Notice" notes a few great ways to celebrate the Fourth of July holiday weekend by helping a good cause.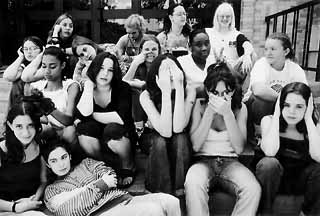 ---

Putting the 'I' Back in Grrl
Sage probably has no idea how effectively she's commanding the stage right now. She shuffles her feet, looks down a lot, and crinkles her nose the way teens do when they think something's embarrassing or dorky. And at this moment, Sage is wondering what the heck her Rude Mechanical coaches are doing to her simple piece about the wonder of Shakespeare and falling in love. After all, she's just a teenage girl with the dreams of every teenage girl; what's the big whoop? This is her personal narrative about a very personal subject, and these crazy directors are putting it out there for everyone to see. The coaches somehow manage to pull energy out of the resistant actress. And in actuality, what the Rude Mech mentors are doing is offering Sage the wisdom of their years of artistic expression and a safe and comfortable environment from which to pull the energy out of herself -- she just doesn't know it yet. Sage is probably and rightfully a bit self-conscious about her first foray into this confrontational mode of self-expression -- oh well, no turning back now: It's three days until showtime, and her coaches see the epic potential of her ideas. Sage is just one of the 17 girls taking part in this summer's collaborative project between
UT
and the
Rude Mechanicals Theatre Company
, a theatre, writing, and self-esteem summer camp, to encourage girls to write personal, autobiographical narratives and then turn all of that into one big shew called the
Actual Lives Grrl Action Project
. "Actual" is a darned fitting word as a matter of fact, as the point of the whole deal seems to be to steer girls in directions toward self-actualization. That's a big chunk to chew, especially for teens and especially in light of the few weeks that the camp has been at it. But the girls have been furiously conceiving and writing and blocking and practicing along with their mentors and coaches each weekday from 9am until noon in preparation for this weekend's shows.
Whew!
The shows are free, and there are only two performances, Sat, Jul 1, 2pm and Sun, Jul 2, 7pm at the UT School of Social Work's Utopia Theater on Trinity, just north of MLK. Bring the whole family, especially your teenage boys, as it might not be a bad idea for them to get a peek at what a world full of fully realized, action-packed superbabes is going to be like.
894-7334
.
---

Also Playing
As holiday weekends typically go, this one is pretty light on the benefit/public service front. But here are two additional opportunities for you to enjoy yourself to the tune of supporting good causes:
Tina Marsh & CO2 and Tosca present Tangled Tangos: Last Dance at Laguna Gloria, before they close temporarily for renovations, Fri, Jun 30, 8pm. 458-8191. See Music Recommendeds, p.98, for details.
Local supporters of the Human Rights Campaign (HRC) will host a Fourth of July Celebration of Independence House Party at the home of Melton West, 1106 W. Sixth, #301, this Tue, Jul 4, 7-11pm. A cool $50 gets you a holiday buffet, a hosted bar, and some great views of the fireworks, not to mention free membership in HRC. www.meltonwest.com/HRC/ or 773-7918.