Wonder
2017, PG, 113 min. Directed by Stephen Chbosky. Starring Jacob Tremblay, Julia Roberts, Owen Wilson, Izabela Vidovic, Noah Jupe, Bryce Gheisar, Elle McKinnon, Daveed Diggs, Mandy Patinkin.
Showtimes
READ MORE
More Stephen Chbosky Films
This film adaptation of the bestselling, much-loved YA novel about young social outcasts finding their way is marred by its its sunny optimism.
Kimberley Jones, Sept. 28, 2012
More by Marc Savlov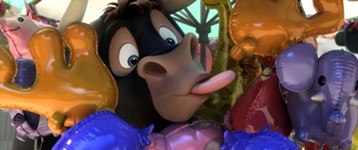 A beloved children's book gets a mediocre screen adaptation
Dec. 15, 2017
Grumpy old men on the golf course
Dec. 15, 2017
KEYWORDS FOR THIS FILM
Wonder, Stephen Chbosky, Jacob Tremblay, Julia Roberts, Owen Wilson, Izabela Vidovic, Noah Jupe, Bryce Gheisar, Elle McKinnon, Daveed Diggs, Mandy Patinkin
MORE IN THE ARCHIVES