Flying Swords of Dragon Gate
2011, R, 122 min. Directed by Tsui Hark. Starring Jet Li, Zhou Xun, Chen Kun, Li Yuchun, Gwei Lun-Mei, Mavis Fan.
No one's ever accused Saigon-born, UT-educated, Chinese fantasy film legend Tsui Hark of making movies that were too subtle in their form and function. My introduction to Hark's directorial wild-style wire-fu was 1990's The Swordsman, in which Cecilia Yip masquerades as a man while fleeing from an evil eunuch. Times have changed, though, and Hark's newest offering is the first IMAX, Chinese-laguage film produced in 3-D. (Sadly, my DVD screener rendered that irrelevant.) This time out, Zhou Xun masquerades as a man while assisting Fan's fleeing concubine. The evil eunuch is dispatched early on, and Hark favorite Jet Li is General Zhao, busily dispatching duplicitous Ming Dynasty bad guys while a band of Tartars – looking and sounding very much like an Asian Gogol Bordello – and assassins galore all converge on an infamous inn at Dragon Gate. It's splendid chop-socky action in the old style, but Hark relies too much on sweeping CGI vistas for my taste.
Flying Swords of Dragon Gate isn't as much fun as the director's previous film – the wondrous Detective Dee and the Mystery of the Phantom Flame. Hark's trademark set-pieces are abundant and this film looks to be ready-made for 3-D, so many objects come rocketing into the camera. It's a case of too much everything: Multiple factions collide while monstrous flocks of crows herald epic dust storms and enough old-school wuxia fisticuffs to raise Ol' Dirty Bastard from the dead.
Something of a remake of Hark's 1992 Dragon Inn, which was itself a remake of King Hu's 1967 film of the same name, Flying Swords has style to burn but a story that's both too chaotic for its own good and at times overly familiar. Props to Jet Li, though, for having apparently discovered the fountain of youth some time ago. His moves are as magically fluid as they ever were, and he commands the screen even when all around him is noisy CGI overkill.
READ MORE
More Tsui Hark Films
Tsui Hark directs this delightful mystery film that's part spectacular period piece and part Sherlock Holmes.
Marjorie Baumgarten, Sept. 30, 2011
Deception and betrayal in culture and politics take center stage in this splendid narrative that shifts between farce and violence, suspense and emotionality.
Pamela Bruce, April 23, 1993
More by Marc Savlov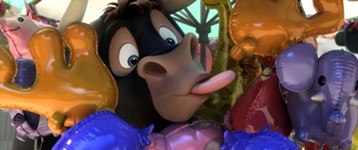 A beloved children's book gets a mediocre screen adaptation
Dec. 15, 2017
Grumpy old men on the golf course
Dec. 15, 2017
KEYWORDS FOR THIS FILM
Flying Swords of Dragon Gate, Tsui Hark, Jet Li, Zhou Xun, Chen Kun, Li Yuchun, Gwei Lun-Mei, Mavis Fan
MORE IN THE ARCHIVES