I Hope They Serve Beer in Hell
2009, R, 105 min. Directed by Bob Gosse. Starring Matt Czuchry, Jesse Bradford, Geoff Stults, Keri Lynn Pratt, Nicole Muirbrook.
Maybe it's a measure of how far the collegiate/coming-of-age film genre has fallen, or possibly it's just the alcohol-fuled detritus of "generation kill," but I Hope They Serve Beer in Hell makes John Landis' seminal Animal House look like Kubrick, Welles, and the Marx Brothers combined. Hell is a cynical, borderline nihilistic glimpse into the minds of modern might-be men, and it's a grim picture of masculinity gone sick and wrong. Gosse's adaptation of twentysomething miscreant Tucker Max's bestselling chronicle of his debauched, sozzled, and epically uncool life story thus far (a follow-up is forthcoming) is, like its willfully antagonistic protagonist, something of a train wreck. A movie full of deviant behavior and random, testosterone-fueled, sex-mad chaos is no great sin in terms of Seventies-era National Lampoon filmmaking, of course. But John Belushi's career-defining turn as the boorish John "Bluto" Blutarsky, Delta House's resident monster from the id – paired with Bruce McGill's Corman-esque wild angel D-Day – resonated not only as comedically iconic fraternity archetypes but also as genuine American rebels with causes and motivations beyond the pursuit of kegs, legs, and dregs. Animal House was subversive in all the right ways: anti-war, anti-authority, and anti-Ivy League conformism. Maybe it's unfair to compare Hell to House, but the fact is that Tucker Max (here played by Friday Night Lights' Czuchry) would have been a more likely member of Animal's uptight Omega House. He abuses his friends and swills the bad life with reckless abandon, but he's also a suit-and-tie guy waiting to happen. His 11th-hour epiphany (you can't be a total jerkwad forever, apparently) is as lame as a near-beer drinking binge. To its credit, I Hope They Serve Beer in Hell's saving grace is a hilariously bitter performance by Bradford (The West Wing) as Tucker's gamer/geek buddy Drew, fresh out of a hellish breakup and loaded with smart, witty bile. Bradford is the temporarily misaligned moral compass in a film sorely in need of less generic misogyny and more caustic, raw brotherhood. It's not a total wipeout: Czuchry embodies the Tucker Max(-ims) to a self-obsessed fault, and there are moments of rough comic brilliance scattered throughout, but really, this particular antihero is all anti- and zero hero.
READ MORE
More by Marc Savlov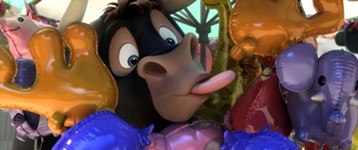 A beloved children's book gets a mediocre screen adaptation
Dec. 15, 2017
Grumpy old men on the golf course
Dec. 15, 2017
KEYWORDS FOR THIS FILM
I Hope They Serve Beer in Hell, Bob Gosse, Matt Czuchry, Jesse Bradford, Geoff Stults, Keri Lynn Pratt, Nicole Muirbrook
MORE IN THE ARCHIVES