Vantage Point
Directed by Pete Travis. Starring Dennis Quaid, Matthew Fox, Forest Whitaker, Sigourney Weaver, Eduardo Noriega, Ayelet Zurer, Bruce McGill, William Hurt.
(2008, PG-13, 90 min.)
If you can work your way past Vantage Point's goofy casting that places a bland, blank-eyed Hurt in the White House, then I suppose you can manage to forgive this Rashomon rip-off's other glaring idiosyncrasies, of which there are many. Like the Akira Kurosawa classic, Vantage Point replays a single event – in this case, the assassination of the United States president at a Middle East peace summit – from multiple points of view. The views include those of an onsite cable-news producer (Weaver), a camcording tourist (Whitaker), a mystery man (Noriega) and an equally unknowable femme fatale (Zurer), a Secret Service agent (McGill), and, the key to it all, Thomas Barnes (Quaid), a recently rehired Secret Service agent who previously took a bullet for the prez and now enters and exits every situation with a panicky grimace that recalls nothing so much as wee Jasen Fisher's anxiety-prone adolescent from Parenthood. Quaid does what he can with a role that appears to be little more than a cheap carbon copy of Clint Eastwood's similarly embattled presidential protector from In the Line of Fire, but after watching him dash hither and yon, searching for the truth in a plaza of lies, it's just not enough to make Vantage Point anything other than another pre-election also-ran. I shouldn't even bring up the outlandish – and preposterously clichéd – story contrivance that revolves around a young girl separated from her mother amidst the conflicting, ever-escalating crises (the poor little plot point ends up on a crowded highway, no less), but fuck it, I just did. Cue screech of brakes, Whitaker's unlazy eye, and me, exiting the theatre to go rewatch The Usual Suspects and ponder the nature of exploitave POV usage.
READ MORE
More Pete Travis Films
Marc Savlov, Sept. 28, 2012
More by Marc Savlov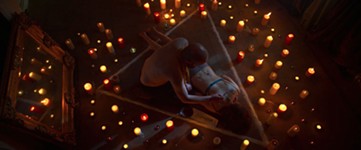 Black magic goes awry in this taut thriller
May 26, 2017
The next installment of this franchise that no one asked for
May 26, 2017
KEYWORDS FOR THIS FILM
Vantage Point, Pete Travis, Dennis Quaid, Matthew Fox, Forest Whitaker, Sigourney Weaver, Eduardo Noriega, Ayelet Zurer, Bruce McGill, William Hurt
MORE IN THE ARCHIVES