Captivity
2007, R, 98 min. Directed by Roland Joffé. Starring Elisha Cuthbert, Daniel Gillies, Pruitt Taylor Vince, Michael Harney, Laz Alonso.
Captivity is the kind of film that gives torture porn a bad name. It's disturbing in the most unpleasant ways possible outside of Abu Ghraib or battlefield snuff films, and the fact that it was directed by Oscar-nominated director Joffé (The Killing Fields) and co-written by Larry Cohen (Phone Booth, Cellular) renders the whole production all the more unpalatable. As the only other audience member at the screening I attended cackled midway through, "This is some fucked-up shit, dude!" Hell yeah it is, and not in a good way, either. Captivity makes Eli Roth's Hostel: Part II play like a down-market The Adventures of Tintin. It ups the ante on the Saw franchise, which at the very least has its own skewed, Rube Goldberg sensibility to it (ditto that for the Final Destination films) and considerably lowers the bar on what can get squeezed out of Hollywood's lower extremities if only enough financial lube is applied. It may be symptomatic of some sort of ongoing, upramping American cultural meltdown – perhaps since neither the mainstream media nor the current administration will allow us to view the blackened and blood-drenched costs of real warfare, we somehow crave cinematic slaughter-by-proxy – but even that feels like a lame, off-base excuse for wallowing in misogynistic, artfully photographed rivers of gore. Cohen's plot features Cuthbert (late of Burnt Orange Productions' The Quiet) as a supermodel abducted by an unseen maniac and subjected to various forms of mental and physical torture while Gillies, on the other side of a cement wall, goes through his own hell, and it's light years away from the snarky nihilism of Q or his mutant baby It's Alive triptych. This feels like Cohen slumming, while Joffé's career continues imploding over and over again. I've always been a huge genre fan (Cannibal Holocaust and Punishment Park are still my ideal drive-in double-bill), but this is just soulless, hateful, and ultimately as freakishly monotonous as death by natural causes.
READ MORE
More Elisha Cuthbert Films
The first Burnt Orange Productions joint mixes The Piano with Poison Ivy. Perhaps future generations of film scholars will embrace The Quiet as a B-movie that problematizes the oppressive gaze, but for now, it's a misfire.
Marrit Ingman, Sept. 1, 2006
An occasionally creepy but mostly rote remake of the 1953 horror classic, with some putatively clever jibes at a certain high-profile hotel heiress.
Marrit Ingman, May 6, 2005
More by Marc Savlov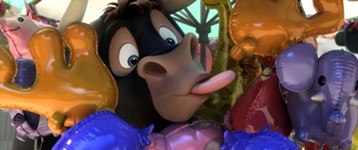 A beloved children's book gets a mediocre screen adaptation
Dec. 15, 2017
Grumpy old men on the golf course
Dec. 15, 2017
KEYWORDS FOR THIS FILM
Captivity, Roland Joffé, Elisha Cuthbert, Daniel Gillies, Pruitt Taylor Vince, Michael Harney, Laz Alonso
MORE IN THE ARCHIVES