Ratatouille
2007, G, 110 min. Directed by Brad Bird. Voices by Patton Oswalt, Lou Romano, Ian Holm, Janeane Garofalo, Brian Dennehy, Peter O'Toole, Brad Garrett.
Brad Bird's first feature-length animated film, The Iron Giant, remains a genuine masterpiece unsullied by more recent "advances" in animation technique. Scripted to perfection by Austin-based writer/director Tim McCanlies, it's a breathtaking, heartbreaking, soul-invigorating work of tremendous emotional power that has gone on to become standard issue in any home with kids or kids-at-heart. Bird's second feature and his first with Pixar, The Incredibles, should've won (yet another) award for titular truthfulness. Bird's newest Pixar production is only slightly less of a revelation than his previous work, chiefly because the ongoing merger of animation, CGI, and live action into a new and fluxing form of meta-media has been steadily eroding our capacity for that old-fashioned "Gosh! Wow!" sense of wonder. Bird knows (as few others do) that a good film, animated or otherwise, lives and dies on the narrative crux; you can match-move, motion-track-capture-and-control characters from now until Walt Disney defrosts, but a visual marvel minus a human emotion is like a sunset unseen. Ratatouille is the story of a young rat named Remy (voiced by Oswalt), who longs to leave behind the gauche and pedestrian comestibles that feed his breed in favor of creating his own haute cuisine in the culinary capital of the world: Paris! Via some extremely clever narrative maneuvering on the part of Bird and co-screenwriter Jan Pinkava, Remy succeeds, sort of, by entering into a Cyrano de Bergerac-style partnership with Linguini (Romano), a trod-upon garbage boy at former four-star restaurant Gusteau's, who's loathed and abused by the archetypically tyrannical chef Skinner (Holm). Linguini begins to find both his way and his spine through Remy's olfactory magic and a budding flirtation with the initially haughty cook Colette (Garofalo). Ratatouille's main story is nicely augmented by a subplot revolving around a chilly and much-feared restaurant critic (voiced by O'Toole, though realized perfectly in all ways) and Remy's obligations to his more streetwise species. Pixar's animation is simply flawless; colorful, deeply realized, and ably conveying both the chaos of the kitchen, and the sensual allure of food well prepared. So much so, that I'd recommend foregoing the concession stand (and, if you're a hardcore foodie, storming it à la Bastille and burning it to the ground for crimes against la palette de humanité, exempting, of course, the Alamo Drafthouse) in favor of a post-screening trip to the Marché d'Intérêt National de Rungis or Central Market. Whichever's closer.
READ MORE
More Brad Bird Films
Seeming more like a calculation than a flight of fancy, this adventure tale has both hits and misses
Marjorie Baumgarten, May 22, 2015
This fourth entry in the Tom Cruise film franchise is the best of the bunch; it's wacky and keen to please.
Marc Savlov, Dec. 16, 2011
More by Marc Savlov
Grumpy old men on the golf course
Dec. 15, 2017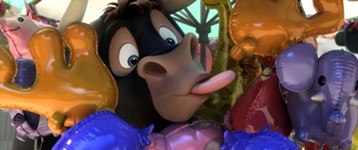 A beloved children's book gets a mediocre screen adaptation
Dec. 15, 2017
KEYWORDS FOR THIS FILM
MORE IN THE ARCHIVES