Seraphim Falls
Directed by David Von Ancken. Starring Pierce Brosnan, Liam Neeson, Angie Harmon, Anjelica Huston, Robert Baker, Michael Wincott, Xander Berkeley, James Jordan.
(2007, R, 115 min.)
For seven years, during his tenure as James Bond, Brosnan was the victim of his own good fortune: Under contract to play the Hollywood personification of simmering male sexuality, wit, and sophistication, he never seemed able or willing to test himself and try his luck with a real person. Now, on paper this might not sound so bad (surely there are worse things in this world than getting stuck playing James Bond), but it must be a somewhat unrewarding acting experience embodying perfection all the time. One can only hope that Brosnan was keeping his eye out for a challenging, juicy role while racking up all those untold millions as Britain's most famous spy and Omega watch pitchman – a role that would allow him to dig down in the dirt and get his hair mussed and his soul cleaned. If that's true, then he's found some salvation in Gideon, the 19th century antihero of Seraphim Falls, who is everything Brosnan's Bond wasn't. Bearded like a Jack London hero, weather-beaten, uncouth, detached, and all but indifferent to the fine art of speaking, he's little more than an animal, shot in the shoulder within the film's first minute and then hunted down through snow and desert over the course of the next 114 by violent men whose lives he extinguishes one by one without care. By the film's five-minute mark, when Gideon is half naked in the cold, howling like a beast as he cauterizes a wound with a red-hot hunting knife, we know that Brosnan has officially exorcised 007 and put him out of his misery forever – buried, as it were, in his best tuxedo and bow tie. Good riddance, too. Because with Seraphim Falls, Brosnan shows himself, finally, to be an actor of real skill – rather than just a pretty face, a great head of hair, and a buttery British accent – capable not only of playing a real human being but one with a tortured soul and a dodgy past as well. Meditative, beautifully shot, and blessed with a healthy dose of cynicism, Seraphim Falls is a morality play without the morality and a Western Purgatorio that, in the end, demands its protagonists resign themselves to their loneliness and brutality and avail themselves of the redemptive power of sheer exhaustion.
READ MORE
More Pierce Brosnan Films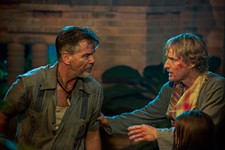 Owen Wilson heads an American family swept up in a Southeast Asian coup
Marc Savlov, Aug. 26, 2015
Pierce Brosnan stars in this spy thriller that's decently made, but lacks the sizzle of a 007 or Jason Bourne.
Marjorie Baumgarten, Aug. 29, 2014
More by Josh Rosenblatt
Swedish doc looks into the war between wheels
March 16, 2015
A dog, two single dads, and a 1,000-pound pig
March 15, 2015
KEYWORDS FOR THIS FILM
Seraphim Falls, David Von Ancken, Pierce Brosnan, Liam Neeson, Angie Harmon, Anjelica Huston, Robert Baker, Michael Wincott, Xander Berkeley, James Jordan
MORE IN THE ARCHIVES