Final Destination 3
2006, R, 115 min. Directed by James Wong. Starring Mary Elizabeth Winstead, Ryan Merriman, Kris Lemche, Alexz Johnson, Texas Battle.
Elsewhere on this page, you'll find me lamenting the death of the Hollywood horror film. Well, nuts to that. I stand corrected and ready to eat my creepers, thanks to Final Destination 3, a horror film (or, more accurately, a shocker film) that takes such exuberant, gleeful delight in the unspeakably gory dispatch of assorted teenagers that it may well be the most fun you'll have at the movies all week. It's not going to nab any golden statuettes, mind you, nor will the Merchant Ivory crowd be clamoring to view it – although I admit it'd be fun to watch their reactions – but, in its own morbid little way, this is very much a stand-up-and-cheer – or shriek, as the case may be – kind of film. Of course, you're cheering for Death Itself, posited in this oddly winning franchise as an unstoppable, elemental force and also an obsessive/compulsive stickler for unobvious minutiae, or, as I like to call it, Rube Goldberg. When a septet of high school grads skips out on what proves to be the world's deadliest roller-coaster ride, they learn the hard, fast, and painful way that it may not be nice to fool mother nature, sure, but mess around with the grim reaper and you're up the Styx with neither paddle nor Charon fare. One by one, they are sliced, skewered, mushed, and mashed off of this mortal coil in some of the cleverest and, if the audience I saw the film with is any indication, most crowd-pleasing convolutions imaginable. I can only surmise how much fun it was for screenwriters Glenn Morgan and James Wong to try to outdo each other in the Improbable Death department, but since the finished product involves nail guns, subway trains, fireworks, and tanning beds, you can rest assured these are two writers who likely had no trouble getting out of bed in the morning. Nice work, if you can get it, but then the same could be said for Death. All this prompts the nagging question: Is it wrong to enjoy something that appears to serve no other purpose than to enumerate the myriad types of trauma that can be inflicted on the human form? To judge from our current Mideast imbroglio and the generally high splatter quotient outside the gates of the dream factory, the answer is apparently "no." Just don't show the real deal on television. And for God's sake, pay your taxes.
READ MORE
More James Wong Films
Live-action versions of animé/manga hits are notoriously hard to pull off, and Dragonball: Evolution proves no exception.
Marc Savlov, April 17, 2009
This One's for you if (a) you dug The Matrix but found it a bit too highbrow; (b) you appreciate movies to the extent that ...
Russell Smith, Nov. 2, 2001
More by Marc Savlov
Grumpy old men on the golf course
Dec. 15, 2017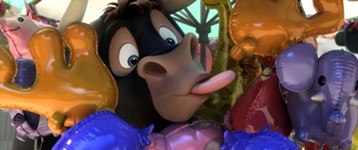 A beloved children's book gets a mediocre screen adaptation
Dec. 15, 2017
KEYWORDS FOR THIS FILM
Final Destination 3, James Wong, Mary Elizabeth Winstead, Ryan Merriman, Kris Lemche, Alexz Johnson, Texas Battle
MORE IN THE ARCHIVES