Supercross: The Movie
2005, PG-13, 92 min. Directed by Steve Boyum. Starring Steve Howey, Mike Vogel, Cameron Richardson, Sophia Bush, Aaron Carter, Channing Tatum, Robert Patrick, Robert Carradine.
Part advertisement for Clear Channel's Supercross broadcasts and part hellish miscalculation on the part of the producers, Supercross: The Movie fails to kick start anything other than the urge to giggle. (It's no Thrashin', the 1986 skateboarding cult favorite; that film at least had the good sense to be downright bizarre.) Supercross: The Movie assumes that just because watching mega-motocross bike racing live can be pretty kickass in a red-state sort of way, it's also going to rock onscreen – an ill-advised leap of faith that results in one of the most inept (and, at 80 minutes, mercifully brief) extreme-sports films yet conceived. Live, motocross and its steroidal big brother Supercross are spectacles of sight (the Road Warrior-esque costumery and the attendant Daisy Dukes) and sound (the high, insectile whine of those screaming Suzukis). In a theatre, it's another matter entirely, and Supercross, shot on what appears to be grainy, inconsistent Super-16 and featuring an aural backwash of crap-lite power ballads, is little more than an insultingly obvious attempt to cash in on the recurrent vogue for semi-outsider sports like skateboarding, snowboarding, and street-racing. Supercross aficionados will likely pillory the film, and should. Supercross is but a series of product placements – Mountain Dew is key – and some spectacularly injudicious directorial and editing choices, courtesy of former stuntman-turned-stunt coordinator-turned-assistant director-turned director Boyum, who knew how to take a punch and land on his feet in Don Coscarelli's Beastmaster but seems never to have mastered pacing the action sequence from behind the camera. The narrative, which pits the hotheaded Trip (Vogel) against his more risk-averse sibling K.C. (Howey) and then tosses in the requisite tragic accident, sexy tomboy biker, and third-act reconciliation is less a single, ongoing cliché than it is some sort of Extreme Life Cliff's Notes for pubescent males. Between Robert Patrick's strange turn as Trip's chopper-trash savior, which feels as though it may have been rewritten during production, and the cornball nature of Trip and K.C.'s After School Special sibling rivalry, it's all a bit much. Not quite enough, but a bit much all the same.
READ MORE
More Steve Howey Films
Kate Hudson and Ginnifer Goodwin co-star in this kicky portrait of narcissism unbridled.
Kimberley Jones, May 6, 2011
More by Marc Savlov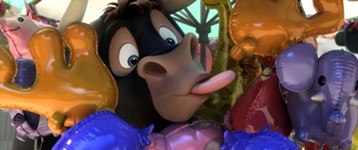 A beloved children's book gets a mediocre screen adaptation
Dec. 15, 2017
Grumpy old men on the golf course
Dec. 15, 2017
KEYWORDS FOR THIS FILM
Supercross: The Movie, Steve Boyum, Steve Howey, Mike Vogel, Cameron Richardson, Sophia Bush, Aaron Carter, Channing Tatum, Robert Patrick, Robert Carradine
MORE IN THE ARCHIVES