Disney's Teacher's Pet
Directed by Timothy Björklund. Voices by Nathan Lane, Kelsey Grammer, Shaun Flemming, Debra Jo Rupp, Jerry Stiller, David Ogden Stiers, Rob Paulsen, Paul Reubens, Megan Mullally, Estelle Harris, Jay Thomas, Wallace Shawn.
(2004, PG, 73 min.)
This is Disney? You could have fooled me. A shortish (73 minutes) big-screen version of the popular Disney television show, Teacher's Pet feels more like Ren & Stimpy's John Kricfalusi on a mild dose of Prozac, and I mean that in the very best way. Lane, hamming it up even more than usual, is Spot, an ovoid, blue canine who chums around with his best buddy, Leonard (Flemming), and the family's pet feline, Mr. Jolly (Stiers), and longs, à la that little wooden Italian kid, to be an honest-to-goodness, flesh 'n' blood boy himself. To that end, Spot follows Leonard to school and beyond, keeping up a steady stream of obsessive one-liners, wearing snappy outfits, and generally being as human as a little blue dog with a massive complex can be (forever in denial, he calls himself "Scott" while in class). When Leonard and his mother decide to take the family RV to Florida minus Spot, the chatty hound stows away in hopes of connecting with Dr. Ivan Krank (Grammer), a swampy mad scientist who claims he can turn animals into people. Of course, Krank's misguided attempts at fooling with mother nature have resulted thus far in the hideous alligator boy (Paul Reubens, stealing the show once again), mosquito girl (Megan Mullally), and worse. Krank, in the tradition of medically educated lunatics everywhere, does a passable Colin Clive ("It's aliiiive!") and revels in his creepified genius, but neurotic Spot seeks him out anyway. Before you can say "canus minor," he's the furless little boy he's always dreamed of being. Well, no, not really – there's that whole "dog years" thing that no one bothered to take into account, and so Spot/Scott is actually a 65-year-old man with fur growing in all the unpleasant places your grandfather never seems to remember to trim. And now Leonard's single mom has taken a liking to him. Egads and hair balls. The film has such a gleefully subversive style that it's barely recognizable as the product of the same studio that brought us Finding Nemo and other family classics, but make no mistake: Teacher's Pet is a fine, smart, wickedly funny family film that, while it will doubtless appeal to kids on the basis of sheer weirdness alone, will also have adults (especially edgy, pop-culture-smart, alterna-adults) eating up the nonstop stream of clever in-jokes, self-referential digs at the animated form, and general insanity as though it were the second coming of Tex Avery. There are songs, too (with Nathan Lane starring, how could there not be?), but unlike Disney's traditionally treacly fare, the snappy numbers here (courtesy of writers Bill and Cherie Steinkellner) are bouncy, goofy, and borderline-idiotic (and again, we mean that in a good way – remember Stimpy's "Happy Happy Joy Joy"? Like that, only with less drool). Gary Baseman, the man behind the Disney TV show, is on board to make sure everything goes, um, odd, and so, as in the television version, this big-screen Teacher's Pet sports an animation style that's just this side of freakish, with outrageous color palettes, eyeball-popping canaries, and a lovely, individualistic take on what it means to be normal. That's at the core of Teacher's Pet's warm (but not gooey) center: Be yourself, and everything else will fall into place. It's either that or be transmogrified into a walking nightmare by your local medical madman. (Which – who knows? – might be fun.)
READ MORE
More Films
Some people stand in the darkness ...
Josh Kupecki, May 26, 2017
The next installment of this franchise that no one asked for
Marc Savlov, May 26, 2017
More by Marc Savlov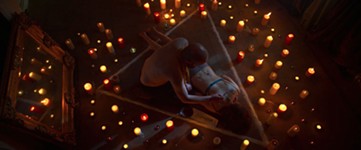 Black magic goes awry in this taut thriller
May 26, 2017
Breaking the doldrums of marriage
May 19, 2017
KEYWORDS FOR THIS FILM
Disney's Teacher's Pet, Timothy Björklund
MORE IN THE ARCHIVES