Jade
1995, R, 90 min. Directed by William Friedkin. Starring David Caruso, Linda Fiorentino, Chazz Palminteri, Michael Biehn, Richard Crenna.
Sometimes I dream of being screenwriter Joe Eszterhas, writing brilliantly mediocre, pointless, go-nowhere scripts that command $4 million-plus points and duping the movie-going public into glorifying tripe while I get all the starlets and the best seats at Sardi's. Sometimes I wake up screaming, too. Jade, Eszterhas' latest (hot on the spiky heels of Showgirls), is an eminently forgettable "psychological murder-mystery" from director Friedkin (Exorcist, The French Connection) that stays with you just long enough to ruminate on how ephemeral the whole thing is. Before you even realize it, it slips through the grate of your consciousness and fades away to a much-deserved nothing. I almost forgot to write this review. Caruso (NYPD Blue, Kiss of Death) plays San Francisco detective David Corelli. When an aging socialite is found hacked to death with one of his highly collectible African ceremonial axes amidst what appears to be the result of some peccadillo, Corelli uncovers ties to both the governor's office and the woman he loves -- clinical psychologist Trina Gavin (Fiorentino), now married to Corelli's boyhood chum and San Francisco lawyer Matt Gavin (Palminteri). Somebody is killing all of Corelli's prominent witnesses, but the culprit's not too hard to figure out by the end of the second reel. Indeed, nothing about Jade is hard to figure out, except maybe why it was made in the first place. The idea may have sounded great at the pitch meeting, but onscreen, nothing quite jells. Friedkin's jittery whiplash editing and profoundly annoying camera set-ups are, well, profoundly annoying, while none of the actors appears to be very involved in what's going on. Even Fiorentino, so stunning in last year's The Last Seduction, is wasted here; she's all breathy beauty and nothing else. Friedkin, to his credit, gives us a nicely compelling car chase through the near-vertical hills of San Francisco, but it's only five minutes long, and this is a 105-minute film. What to do with the other 100 minutes? No one seems to know.
READ MORE
More William Friedkin
William Friedkin on sex, violence, and 'spandex movies'
Marjorie Baumgarten, Aug. 3, 2012
More William Friedkin
Extended Q&A with the man behind 'The Exorcist,' 'French Connection'
Marjorie Baumgarten, Aug. 2, 2012
More William Friedkin Films
Matthew McConaughey's Killer Joe is sociopathy incarnate; William Friedkin adds visual punch to the venality within Tracy Letts' screenplay.
Marc Savlov, Aug. 3, 2012
The Exorcist's William Friedkin directs this psychological thriller that never really gets under your skin.
Steve Davis, June 1, 2007
More by Marc Savlov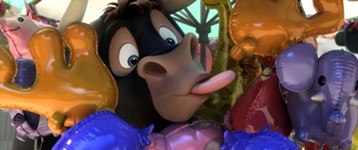 A beloved children's book gets a mediocre screen adaptation
Dec. 15, 2017
Grumpy old men on the golf course
Dec. 15, 2017
KEYWORDS FOR THIS FILM
Jade, William Friedkin, David Caruso, Linda Fiorentino, Chazz Palminteri, Michael Biehn, Richard Crenna
MORE IN THE ARCHIVES