Half Japanese: The Band That Would Be King
1993, NR, 90 min. Directed by Jeff Feuerzeig.
There came a point when Jeff Feuerzeig became so fed up with the lack of attention his favorite band -- Half Japanese -- was getting that he decided to do something to remedy the situation: he made a documentary about them. While the music of the band is admittedly not for everyone (Lou Reed, for one, according to the band), Feuerzeig's film is a thorough, passionate affair that chronicles the brothers Jad and David Fair from their earliest warblings to their current underground status as the best band in the world. Culling material from home movies, a Half Japanese video, and assorted other areas, Feuerzeig pairs this footage alongside interviews with the group's varied fans (in one notable scene, Penn Jillette -- of Penn and Teller -- relates how he basically swindled a guy out of various Half Japanese materials in order to release an album of their work on his 50 Skadillion Watts label. "The end never justifies the means," he says, "except maybe just this once.") Drummer Maureen Tucker of the Velvet Underground pops up both in interview and in footage performing with the band, and the editor of Forced Exposure magazine chimes in with a number of insightful and barbed comments. If you're a fan of the band, Feuerzeig's film is a must; it's the kind of documentary that's made by fans for fans. At the same time, the previously unenlightened get a chance to see what all the fuss is about and decide for themselves if this really is, as so many have said, "the greatest band ever."
READ MORE
More Jeff Feuerzeig Films
Infamous literary scandal comes to life
Marjorie Baumgarten, Sept. 16, 2016
The literal and figurative institutionalization of Austin music and art legend Daniel Johnston is analyzed from many angles in this perceptive film profile.
Raoul Hernandez, May 5, 2006
More by Marc Savlov
Grumpy old men on the golf course
Dec. 15, 2017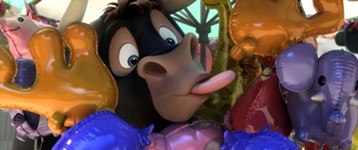 A beloved children's book gets a mediocre screen adaptation
Dec. 15, 2017
KEYWORDS FOR THIS FILM
Half Japanese: The Band That Would Be King, Jeff Feuerzeig
MORE IN THE ARCHIVES