The Super
1991 Directed by Rod Daniel. Starring Joe Pesci, Vincent Gardenia, Ruben Blades, Madolyn Smith Osborne.
Hollywood Truism No. 44: even great actors can get roped into bad movies. Joe Pesci, wonderfully creepy in Scorsese's GoodFellas, has finally ended up in a less-than-delightful film. It happens to everybody, I suppose. As Louie Kritski, Pesci plays a slumlord whose motto ("You buy a building, what do you do with it? Shit!") is more like some warped NYC code of dishonor than anything else. Brought up on charges of neglect by the NY Housing Authority, Kritski is sentenced to spend 120 days residing in his worst tenement, until he manages to bring the building back up to code. It's no big surprise, then, to discover that Pesci's character soon finds he has a lot more in common with his tenants than previously thought. This is a comedy, after all, and predictable though it may be, Pesci manages to bring a number of his subtle shadings to this archetypal character of the slumlord. But that's really not enough. Director Daniel (perpetrator of such zany laugh-riots as Teen Wolf, K-9 and Like Father, Like Son, ha ha) has always had a fairly heavy hand when it comes to making people laugh, and there's apparently no end in sight. Daniel's idea of comedy consists mainly of pratfalls, splutterings, and unintelligible mouth-sounds, but that's about it. Too bad, really, because The Super could have been a deliciously foul little black comedy a la Joel and Ethan Coen, had it been handled with a tad more restraint. Instead, what we have is a muddled, quasi-funny morality tale with as few surprises as it has genuine laughs.
READ MORE
More Joe Pesci Films
Matt Damon abandons the cat-and-mouse theatrics of his Bourne identity to play the reserved fictional functionary whose life serves as the prism through which this film examines the early years of the CIA.
Marjorie Baumgarten, Dec. 22, 2006
Home Alone is the apex, the pinnacle, the culmination of every bad bit Hughes has ever written or directed. It overflows with primitive, disastrously unfunny sight gags and neo-hateful familial humor.
Marc Savlov, Jan. 11, 1991
More by Marc Savlov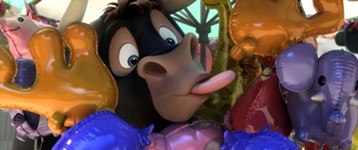 A beloved children's book gets a mediocre screen adaptation
Dec. 15, 2017
Grumpy old men on the golf course
Dec. 15, 2017
KEYWORDS FOR THIS FILM
The Super, Rod Daniel, Joe Pesci, Vincent Gardenia, Ruben Blades, Madolyn Smith Osborne
MORE IN THE ARCHIVES