Home Alone
1990, PG, 102 min. Directed by Chris Columbus. Starring Macaulay Culkin, Joe Pesci, John Candy, Daniel Stern.
A long time ago, back when I first saw John Hughes; Sixteen Candles, I thought -- along with quite a few other filmgoers -- here's a guy who knows the score. Well, time has proven me about as wrong as I could be. Home Alone is the apex, the pinnacle, the culmination of every bad bit Hughes has ever written or directed. It overflows with primitive, disastrously unfunny sight gags and neo-hateful familial humor.
READ MORE
More Chris Columbus Films
Ever wish you could pixelate Adam Sandler?
Marjorie Baumgarten, July 24, 2015
A teenager's Greek mythology book comes to life and thrusts him into an adventure to recover Zeus' stolen lightning bolt.
Marc Savlov, Feb. 19, 2010
More by Marc Savlov
Grumpy old men on the golf course
Dec. 15, 2017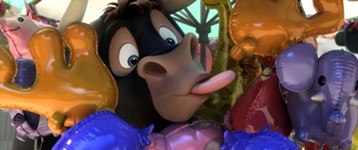 A beloved children's book gets a mediocre screen adaptation
Dec. 15, 2017
KEYWORDS FOR THIS FILM
Home Alone, Chris Columbus, Macaulay Culkin, Joe Pesci, John Candy, Daniel Stern
MORE IN THE ARCHIVES