Theatrical Fuse
Zell Miller III Is Incendiary -- and the Good News Is That He Has Only Begun to Explode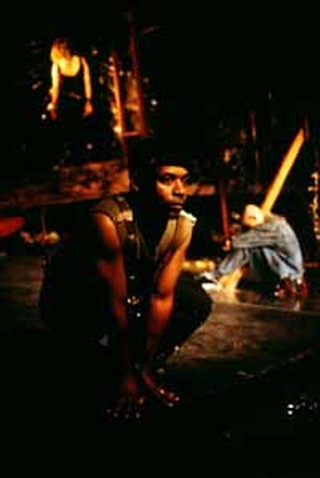 A writer and performer, Zell Miller III is an incendiary device waiting for a match. From Vivisections of the Blown Mind, his first production with Frontera in 1993, to MadIzm, his one-man show, to mentoring young poets, to Frontera's production of Sharon Bridgforth's con flama, once he flicks an ember into the hidden dry undergrowth of text, there is nowhere to hide. He simply takes the space.
"I got F's forever in English," he says, graded by teachers who told him his writing wasn't poetry. "Thank God for the Cactus Poet's Society." Run by Evelyn Martin Anderson, the Society met weekly as a support and audience for members' work. Also in the group was Sharon Bridgforth, a writer whose performance texts have been powerful vehicles for Miller as an actor.
He ventured across I-35 to such venues as Chicago House to read his work. "You had to call to get on the list," he remembers. "Once they found out my name, every time I called they said the list was full." It didn't take him any time to figure out why: "I had my anger on everyone. Black. You know. Rapper. Pants sagging on my butt." It also didn't take him long to figure out a strategy: He called using different names. He got on the list.
"So I walk into the Chicago House, and Patricia Fiske is sitting at this table by herself. I had my on my black beret. I'm ready to bust. And here's this little old white woman. All the other tables were full."
Now, he says, he understands why they wouldn't want him on stage.
"And I was like, 'Who's sitting here?' And she's like, 'Oh no one, have a seat,' and I was like, 'Yea.' You know?"
He evokes the lightning voices of this first Punch and Judy meeting.
"She's like, 'Are you reading?' and I'm like, 'Yea yea what's the problem?' And she's like, 'Oh, because I was going to read, but I'm a little nervous.' You know. I was like, 'What the hell are you nervous about? If you got something to say, go say it.' And she was like, 'You're right! I'm going to say it!' And she got up and like bust it, and I was like, 'Wow,' you know, and I was like, 'That was good,' and she was like, 'Really?' I was like, 'Yea.' And I did my thing and she was like, 'You're amazing.'"
Now, he says, "I call her Grandma. Seriously."
Miller relishes his theatre relationships. He has fire. He is fierce.
Fiske laughs softly. "I don't think he realizes I had heard him several times before we actually connected," she says. "You just knew there was a lot going on with this man. We both encouraged each other."
He identifies Laurie Carlos, the author and director of Alaskan Heat Blue Dot and the director of Heavenly Shades of Night Are Falling and con flama, as his "mentor" and "theatrical mother." With her focus on breathwork and movement, she has deeply affected Miller as an actor as well as a writer. In 1997, when each performed at FronteraFest, she read his work and, he says, "She broke it down. She just asked me, 'Who are you mad at?' And she was like, 'Well, just think of it like this: Your mother, your sister, they didn't have to lay down with anybody they didn't want to last night. You're not picking cotton, your brother's not picking cotton. You can basically go anywhere in this country -- the world -- that you want to. I want to hear what you got to say about it.' And it was like a -- boom. You know?"
He says "boom" a lot.
She warned him, however, that change would disaffect some who might prefer anger. "'People are going to turn their backs on you,' she said. 'But all you have to do is turn around, and there's like a whole group of other people and we've been waiting on you. We've got our arms ready for you.'"
It happened exactly the way she said.
Vicky Boone, artistic director of Frontera@Hyde Park Theatre, where Miller has done most of his work, sought him out when casting Vivisections. Miller went to what he thought was a reading. It was actually an audition. "The director was like, 'Okay, take 10 minutes and we'll get to work with the other actors.' I'm like, 'What are you talking about? I have a date.'" He laughs. "I just came to read this piece of paper for this woman who's been bothering the hell out of me."
He lays it out with deep affection. "I would not be here if it were not for Vicky Boone. I would not be onstage."
Since then, Miller has consistently brought home devastating performances for Frontera: blood pudding, Alaskan Heat Blue Dot, Heavenly Shades of Night Are Falling, Polaroid Stories, and, most recently, Bridgforth's con flama. His two monologues in that piece scorched the earth.
He performs with power and velocity now that his anger has abated and he is coming into his own. He says, "It took me a long time. I'm 30 now, and I want to say, I just got over like a lot of that stuff. To really be able to be the person I am." A year ago last August, he and his wife Marcia were blessed with baby Zell Miller IV. "Once they put him in my hands, you know, all that stuff was out the window." His son has these beautiful eyes the size of buckets. "There's no way I could teach you to hate, or be a bigot," he murmurs to his son. "I can't teach you that. You know. So I can't teach you, I can't be it."
The last year has been big. Boom kind of big.
"Laurie didn't tell me that was going to happen."
He was in rehearsal most of Baby Zell's first year, only seeing him at night after he was asleep. Daddy and baby didn't get to know each other. "It hit me during Heavenly Shades and I picked him up and he was like, he just started screaming. It was a struggle to do con flama. When I talked to Laurie on the phone, I was like, 'Well, I'm not going to do the show,' and she was like, 'Well, I understand.' She paused. 'That I have to kill you.'"
Carlos is too powerful a force and believed too strongly in Miller for him to get away with saying no. His supporters, his mentors, and company members rallied. Boone offered to let Miller bring his son to rehearsal.
At first, he says, "I got weird about that because I just remember my reaction when people bring their kids to rehearsal. It was like, 'Man, how are you going to rehearse? With your kid? Come on, man, we're here to work.'" But that was before.
Bridgforth, the author of con flama, developed a great relationship with Baby Zell. "He and Sharon got their own, you know. So she would take him outside for a little. It was the perfect place to do it."
Miller says he isn't doing that marathon production schedule again. No way. Hell, no. But he does speed through a list of other projects, including rewriting and performing a "remix" version of MadIzm, producing a CD of spoken word called Xenogia. He's also involved as a writer and director with Acting Up in Class, a youth program through Frontera, which deposits performers into public school classrooms and negotiates a space between experiences of violence and other alternatives. One of those alternatives is theatre. "The idea is to identify young people and encourage them to come to additional workshops," Miller says. "Then boom. They're performing up there. Boom. Their plays are onstage."
Boom.
A rehearsed reading of Miller's own play, Arrythmia, will be produced this weekend, February 13, as part of the Cornerstone reading series at Penumbra Theatre in Minneapolis. Longtime Frontera colleague Daniel Alexander Jones will direct.
Jones says, "I first worked with Zell as an actor in Austin in 1994, and observing his journey from that place to this place has affirmed for me the benefits of taking risks personally and artistically. Zell continually challenges himself to move beyond his comfort zone. He has always been completely committed to the work he does. And he has always exceeded his own and everyone else's expectations."
"The ultimate way that I see it," Miller says, ticking items off on his fingers, "is to go to a city, do Acting Up that day at a school, do MadIzm that night, and do a poetry spot later that night. Boom. Boom. Boom. That's the ultimate goal. That's what we want to get to."
The good news, as Bridgforth puts it, is that Zell has only begun to explode.