Exhibitionism
Raised in Captivity: Family Values
Hyde Park Theatre,
through October 10
Running Time: 2 hrs, 25 min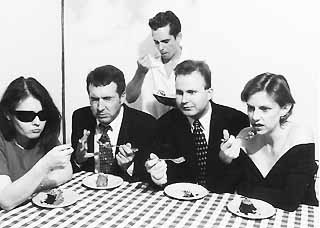 So if the thesis of Judith Rich Harris' buzz-heavy new book The Nurture Assumption is correct and parents exert almost no influence on the development of their children, then why are they all that our country's playwrights write about? The looming legacy of mom and dad -- who either failed to give their children any love at all or suffocated them with affection -- is the great constant in American drama, and while you'd think the subject would be exhausted by 220 years into the life of the republic, here's Nicky Silver with another of his dark cartoons of family life to challenge that assumption.
As this one opens, the kids are grown and the folks gone -- in fact, Mom has just departed that week, recipient of a fatal conk on the noggin from a wayward shower head -- but the Bliss children are still far from being out of their parents' shadow. Standing on the cemetery lawn together, fraternal twins Sebastian and Bernadette spend much of their time casting resentful backward glances at their mother like sullen adolescents, squabbling over which of them she mistreated more. Later, we see Sebastian railing bitterly to his shrink -- scratch that, psychologist -- about the childhood crimes visited on him by dear old ma, while Bernadette obsesses over her looks -- "Am I too thin? Am I too fat?" -- fall-out from the psychic bombs fired on her by, you guessed it, mother. They're both emotionally stunted, locked in a state of childish insecurity, neediness, and self-absorption, and as such, they've locked almost every other human out from meaningful emotional contact. Each has made a deep personal investment in one other person: Bernadette her husband, Sebastian his shrin... um, psychologist; but alas, these two are as narcissistic and clueless as the twins. Sebastian's doctor, Hillary, is so lost in self-loathing that she feels the only way she can atone for it is by -- see if you don't find this a tad extreme -- putting out her own eyes. Bernadette's hubby Kip is lost on his own inner journey, first escaping from the drudgery of dentistry -- "There is no poetry in teeth," he states -- to find fulfillment in painting, only to chuck that in a desire to move to Africa. The only intimate of this crowd with any perspective is Sebastian's pen pal, a prison inmate convicted of murder. Just the kind of guy you want to lean on for interpersonal insights.
Anyone familiar with Nicky Silver's work should recognize these kinds of extreme characters from such plays as The Food Chain and Pterodactyls, both of which have been staged by Subterranean Theatre Company, the group producing here. As in those comedies, Silver magnifies the degree of self-absorption to a point of absurdity, allowing his characters to be played for overwrought fools, which, generally, the actors in these Subterranean shows do memorably. As Bernadette, Katherine Catmull flits from mood to mood like a bi-polar bumblebee: here a taste of honey, here a nasty sting. As her dotty spouse, Rob Berry projects a hilariously vacant optimism; beatifically adoring the moon, his face is as bright and round and, well, moon-y as the object of his affection. And Cyndi Williams is in top form as the seriously penitent Hillary, wearing her self-denial where everybody can see it -- well, except for Hillary herself -- and patiently allowing those, um, dark gags based on her sightlessness to draw laughter with just a deadpan face and expert timing.
Silver writes blackly funny characters, though critics routinely complain about them seeming little more than cartoon humans -- exaggerated and bold of line but flat. While no one is likely to confuse Raised in Captivity with Long Day's Journey Into Night, its characters offer more shading than the typical Silver satire. Sebastian wrestles with the void in his heart and the curious connection he feels with a murderer, who is a figure of some gravity here. Mom is given the chance to come back and speak for herself, and she shows a surprising sensibleness. And schizoid Bernadette gets a shot at sanity -- redemption, even -- through a child of her own. Subterranean's production mines this deeper mood for a notable resonance. Most of it is seen in the performances -- in the profound yearning in David Stahl's eyes as his Sebastian looks toward us for comfort, in the softness and measured tones of regret in Joey Hood's voice as the inmate -- but also in Chase Staggs' set, the pervasive pale blue of which echoes a swimming pool, a place suggesting both childhood play and a place where one may drown. Director Ken Webster and crew have fashioned a piece as satisfying in its balance of humor and pathos as their 1996 production of Sin.
We are still learning about families: how they work, how they shape us, how we grow from being children to being adults to being parents ourselves. So there is still room for writers to teach us about family and home and love. We can learn from this one and laugh, laugh, laugh as we do. -- Robert Faires
---

STILL TIME: PHOTOGRAPHS BY SALLY MANN: VISITING FAMILY
Austin Museum of Art -- Laguna Gloria,
through November 8
Thanks to the overzealous rantings of certain conservative thinkers (such as Radical Right activist Randall Terry, who urged his sympathizers to march into bookstores and tear offensive pages from targeted books of "criminal garbage," including Sally Mann's), visitors to this exhibition might expect to find works of shocking, disturbing proportions. Once a viewer actually sees this splendid collection, however, he or she may well leave with some new viewpoints -- on what constitutes truly shocking and on the undeniable validity of photography as art.
Rather than the vulgar pedophilic content that Mann's work has been accused of having, these images provide a touching and honest insight into the lives of everyday people, namely folks from Mann's hometown of Lexington, Virginia. This retrospective features photographs from the last 25 years of Mann's career, including portions of her compelling series
At Twelve: Portraits of Young Women, a sensitive look at female faces of adolescence in this region. Mann's black-and-whites are like Flannery O'Connor's words in photo form; they posses an innately Southern sense of quirky melancholy, a timeless haunted character that seems to blanket the Shenandoah Valley.
Mann's controversy-triggering images of her three children Emmett, Jessie, and Virginia are displayed in the upstairs gallery, a rather conspicuous separation from her less-disputed works downstairs. In most of the photos, the children are nude, and they provide an intensely cogent glimpse at childhood's ephemeral charm, such as the one featuring daughter Virginia at about age 10. She stands topless, with her long hair falling over her shoulders, Godiva-style. With a brilliant red raspberry clamped to each finger of her raised hand, and her berry-colored lips sweetly pursed, this image totally embodies that marvelous, enviable time of life when you can wear berries as finger puppets and run around naked without anyone harassing you. Except Randall Terry and his ilk, of course.
It's difficult to understand how some people can confuse intimacy with perversion, finding controversy in the most natural of figures. Maybe the people who find perversity and pornography within these stunning photos are themselves the perverts -- how else can one find something dirty in an image of a naked sleeping child? Perhaps there are surreptitious Freudian thoughts at work behind these captious critics of Mann, a projection of negative self-perception onto what they perceive as filth.
Kudos to AMOA for taking a chance on a fairly risky show (a decision that apparently has been met with derision from some local museum members). This collection sets a standard we can hope to be repeated in the future, whether at this historic space, the galleries downtown, or the museum's future home on Third Street. The cozy, homey setting of Laguna Gloria offers the perfect backdrop for this deeply personal collection. It's like visiting your extended family -- a family full of cousins who aren't afraid to run around buck naked wearing berries on their fingertips. -- Cari Marshall